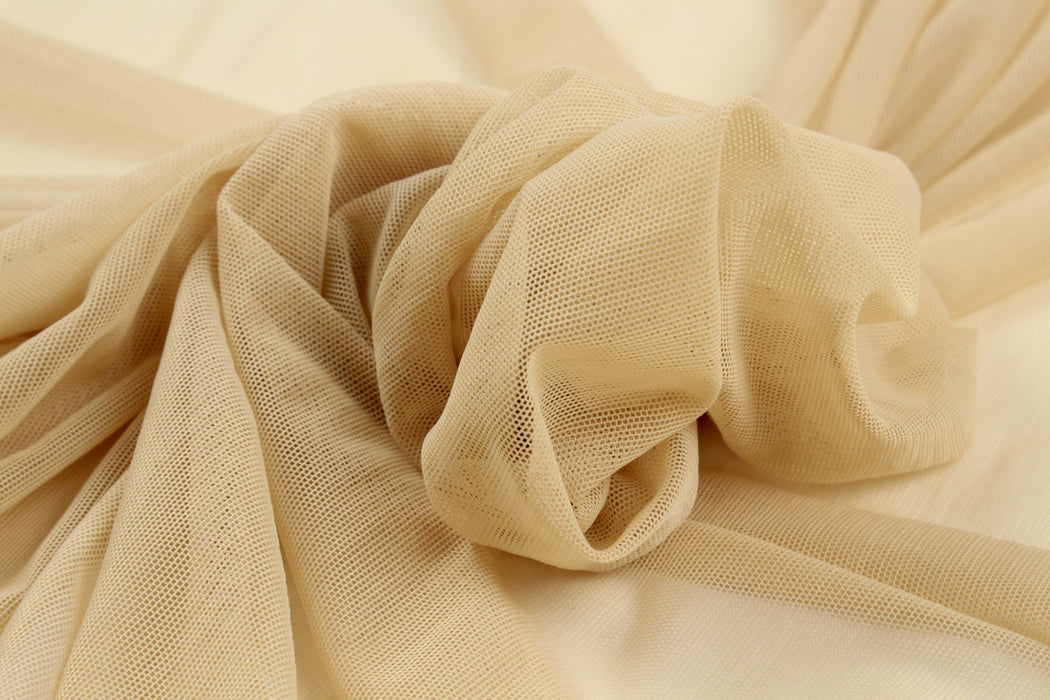 Recycled Polyamide Tulle with Vegetable Dyes - Stretch - 7 Colors Available
SKU
MOQ6&PNN_83209_CASTAGNO
Fabric Made in Europe - Company Based in Spain
Original price
$0.00
-
Original price
$15.00
We Ship From Spain to European, North American, Oceania and Middle East markets.
CARE INSTRUCTION
Description

Fabric Estimator

Know More
71% Recycled Polyamide 29% Elastane.
Weight: 55 gr/m2
Width: 155 cm
M.O.Q: Minimum Order Quantity 6 meters.
More details about this product: Soft mesh made from recycled polyamide, from fishing nets, and pre-consumer fabric waste. Each color of this innovative collection comes from different plants to obtain a specific tone. No chemicals used in the production process. Perfect for dresses, skirts, tops and lingerie. 

Fabric is always in stock and re-orderable at any time. 
DYESTUFF:
ROBBIA: Madder is an herbaceous perennial plant with long roots from which the dyeing pigment called Alizarin (Natural Red 8) is extracted. Since the Middle Ages and until the discovery of the synthetic Alizarin, Madder was one of the most important dyestuffs and, as such, widely grown and traded.
CASTAGNO: Chestnuts grow in the Mediterranean area and produce edible nuts rich in nutrients. The dyestuff is extracted from leaves, fruits, and husks. The wood is rich in tannin, which is also used in tanning hides.
CATECHU: Catechu is extracted from Acacia Catechu and its varieties, all belongings to the Pea family and growing in India, Myanmar, and Africa. Even after the development of synthetic dyes, this continues to be used.
CLOROFILLA: Clorophyllian Extract is a concentrated natural dye obtained from alfalfa, stinging nettles or from other edible plants.
LACCA: Improperly called rubber, it is obtained from the secretion of an insect (Tachardia Lacc Kerr.) that lives on the branches of various oriental trees, especially on Ficcus; the females cover the branch with a violet resinous secretion used since the past to dye in red - Purple.
NOCE GALLA: Sumac Gall is an abnormal growth caused by various insects of the Cynipidae family living on the trunks, leaves, or roots of certain plants, and Sumac is one of them. The galls contain gallic acid and tannins which are used in the production of inks and dyestuffs, and in tanning. 
RESEDA: An annual plant, belonging to the Resedaceae family, growing abundantly throughout Europe to heights of around a meter, all parts of the plant contain a substance called Lutein, which has been used since Roman times to produce an excellent solid yellow color.
Note: If eligible, VAT won't be applied for this product. A valid and eligible European Union VAT identification number (company or individual) should be inserted at the checkout step.

Clear up some basic doubts you may have:
1.Where is FS office located?
Our office is located in Lloret del Mar - Spain. It's a lovelly city where our team is inspired by the sea everyday.

2.What countries does FS deliver to?
FS has clients all over the world but its focused on European, North-american, Middle East and Oceania markets because most of our demands come from these markets.
3.What's the delivery time to receive my order?
Your order will be shipped on the working day after we receive payment confirmation. This can take between 6 -8 working days.
For more information about delivery, shipping and returns, click here (link para Shipping and Returns).
4.Whats the origin of FS fabrics?
FS works exclusively with european and turkish fabric producers. All of them chosen with a high quality criteria expressed by product excellence, on time delivery, certification and variety.
5.Prices and Payment
You can pay your fabrics with credit card or paypall.
Prices are all quoted in Euros. Please note that changing the delivery country may have an impact on prices due to transportation costs.
Value added tax (VAT) is added over the displayed prices on the website when applicable.
To know more about payment, prices and delivery click here: (link para: https://fabricsight.com/pages/terms-conditions
6. Can I talk to the company directly and ask for a Concierge service?
Yes, our team of Concierges can talk to you at any time. You can ask him any question and he will follow up the whole process of you purchase, from the fabric definition to delivery.
You can reach the Concierge via chat (at the right bottom of your screen on FS website). Monday to Friday from 9 AM to 6 PM GTM.
Or email: hello@fabricsight.com
Or tel: +34 972 377 725
Or whatsapp: +34 609 30 30 06
Don't hesitate to contact us. It will be a pleasure to talk to you and understand your needs.
You can also check:
https://fabricsight.com/pages/terms-conditions