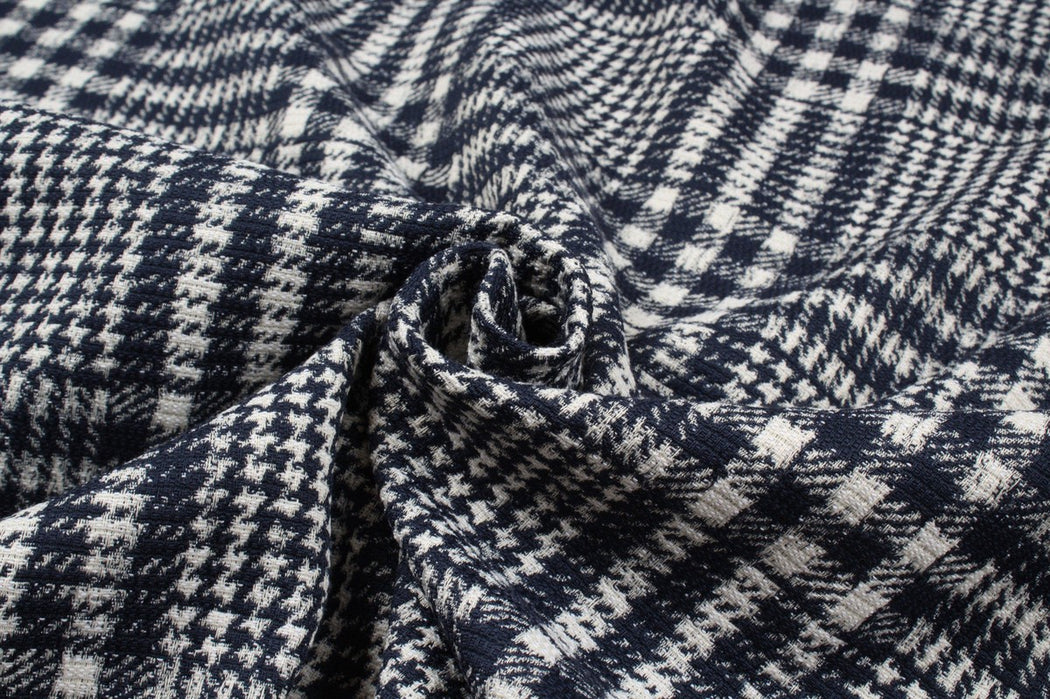 Prince of Wales Polyester/Cotton Fabric - Stretch - M.O.Q 30 Mts
SKU
MOQ30&TWI_PRINCE_OF_WALES_01
Fabric Made in Europe - Company Based in Spain
Original price
$0.00
-
Original price
$0.00
We Ship From Spain to European, North American, Oceania and Middle East markets.
CARE INSTRUCTION
Description

Fabric Estimator

Know More
53% Polyester, 43% Cotton, 4% Elastane
Weight: 295 g/m²
Width: 144 cm
Minimum Order Quantity:

30 meters.

More details about this product: Heavy weight polyester and cotton blend fabric, prince of wales design. Textured and structured fabric, very comfortable and slightly stretchy. Perfect for jackets and bottoms. Suitable for womenswear and menswear.
Limited Availability | Bargain Price

Made in Italy
NOTE: If eligible, VAT won't be applied for this product.
A valid and eligible European Union's VAT identification number (company or individual) should be inserted at the checkout step.
Clear up some basic doubts you may have:
1.Where is FS office located?
Our office is located in Lloret del Mar - Spain. It's a lovelly city where our team is inspired by the sea everyday.

2.What countries does FS deliver to?
FS has clients all over the world but its focused on European, North-american, Middle East and Oceania markets because most of our demands come from these markets.
3.What's the delivery time to receive my order?
Your order will be shipped on the working day after we receive payment confirmation. This can take between 6 -8 working days.
For more information about delivery, shipping and returns, click here (link para Shipping and Returns).
4.Whats the origin of FS fabrics?
FS works exclusively with european and turkish fabric producers. All of them chosen with a high quality criteria expressed by product excellence, on time delivery, certification and variety.
5.Prices and Payment
You can pay your fabrics with credit card or paypall.
Prices are all quoted in Euros. Please note that changing the delivery country may have an impact on prices due to transportation costs.
Value added tax (VAT) is added over the displayed prices on the website when applicable.
To know more about payment, prices and delivery click here: (link para: https://fabricsight.com/pages/terms-conditions
6. Can I talk to the company directly and ask for a Concierge service?
Yes, our team of Concierges can talk to you at any time. You can ask him any question and he will follow up the whole process of you purchase, from the fabric definition to delivery.
You can reach the Concierge via chat (at the right bottom of your screen on FS website). Monday to Friday from 9 AM to 6 PM GTM.
Or email: hello@fabricsight.com
Or tel: +34 972 377 725
Or whatsapp: +34 609 30 30 06
Don't hesitate to contact us. It will be a pleasure to talk to you and understand your needs.
You can also check:
https://fabricsight.com/pages/terms-conditions